Big Bag unloading assemblies are made in accordance with the customer's order. 
The racks can be designed for 500 and 1,000 kg Big Bags. It is possible to assemble a few racks over one conveyor, which allows you to transport a variety of ingredients to one feeder. The dimensions are pre-set on an individual basis.
The conveyors are made to an
individual order
, taking into account the needs of the customer (length, width, threshold density and belt thickness).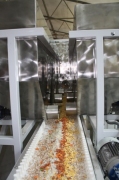 You can assemble two racks to mix two or more ingredients onto one conveyor. Z-shaped conveyor is usually placed under the big bag discharge and puts the material directly into the feeder hopper.